Learn secrets the agencies don't want you know...
HOW I WENT FROM 550 TO 758 AFTER THREE CREDIT REPAIR SCAMS!
In a nutshell, I ended up conducting my own research after being ripped off by scammers and liars disappeared after payment. Here's my exact blueprint on how my credit score climbed to 758 in a period of 14 days to 90 days.
No two ways about it, being scammed out of my hard-earned money sucks big time. Three times so I must be a glutton for punishment. Well, that's when I decided to dive into the research myself -- and it paid off in a big way because my scores increased by 78 points within 30 days and they kept climbing from there.
DID YOU KNOW?
An 800 credit score is worth $150,000!
The credit game is easy when you know the rules!
The BEST advocate for you is YOU -- better than credit repair services!
SAVE TIME AND MONEY
There are 10,000 hours of deep-dive legal research transformed into 2 hours of bite-sized, actionable material without any useless fluff. Just the key ingredients you need to increase your credit scores.
No monthly fees
No 20+ video modules
No year-long process that may or may not work
No hours and hours of going back and forth with a "credit coach"
I've been in the credit repair industry for 5 years and I've never seen a more thorough plan to improve credit scores.
— Bernardo L.
I purchased more credit repair material than I care to admit for many years and none of the other material comes even close to your credit secrets blueprint. This is easily worth $10,000 alone.
— Adam W.
"I literally woke up wanting a change. I would constantly check my kredit karma app getting more stressed. I am an essential worker and have worked throughout this whole pandemic. We also gotten a couple stimulus checks and I said ok I have some funds let's make changes.
I took my funds (what I have) and followed The Personal Credit Secrets by Anne Smith.
I literally followed her plan I went through all her recommendations to add good credit. It has only been about 3 weeks I opened 3 accounts and saw 45+point boost. Yup with the bad stuff still on there and the score keeps going up. This week the 3rd week on my little journey I just opened my two secured credit cards. So I expect another boost soon. As I begin to tackle and remove my negatives all my letters are typed up and ready to go. But trust the process people. It works." 😉🙂
— Candi T.
"Your credit repair blueprint will seriously change the game by impacting lives forever. The bottom line is anyone fortunate enough to get access will have excellent credit."
— Anthony D.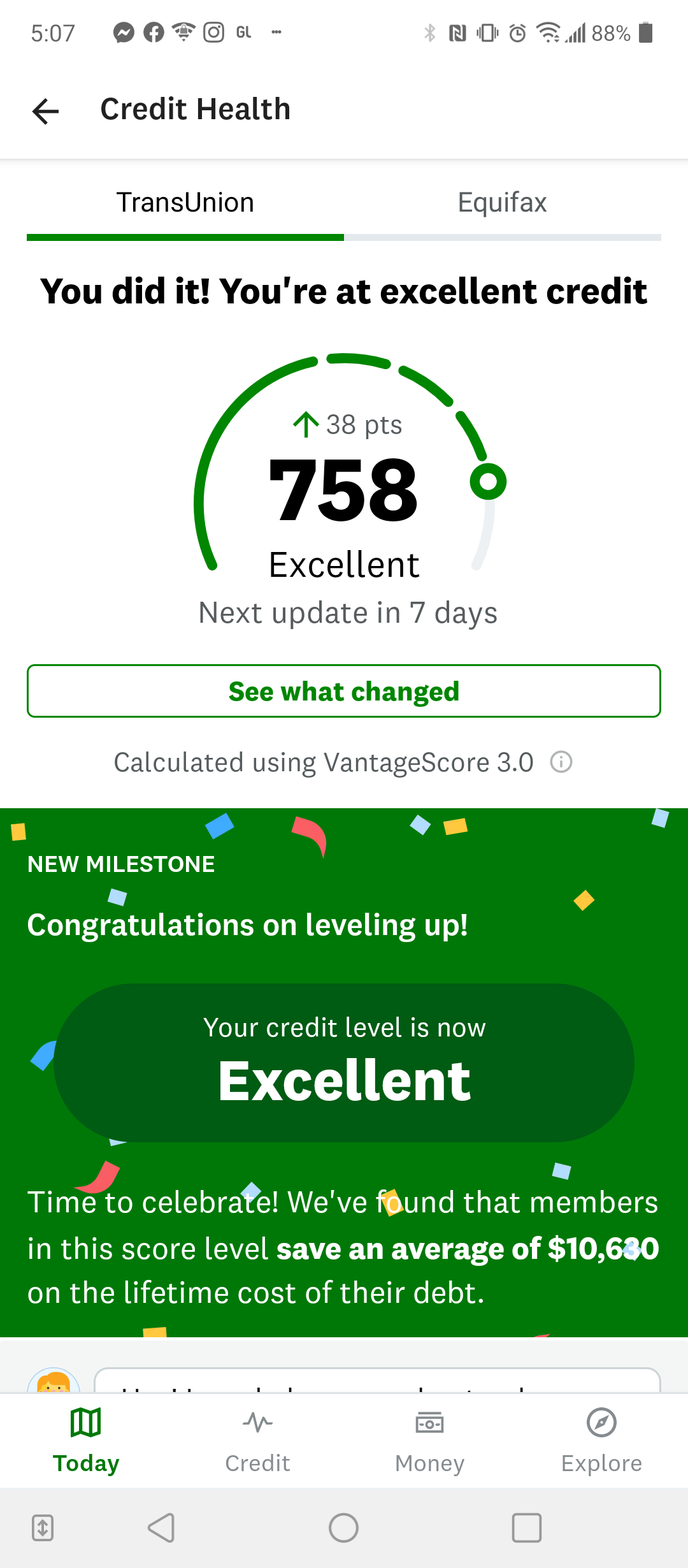 This is a screenshot of my TransUnion score in the Credit Karma app.
My hard work paid off and now I'm sharing the research with you to shorten the learning curve for faster results without becoming a scamming victim.
FREQUENTLY ASKED QUESTIONS
Q1: How long does it take to increase my score?
A1: My scores began to increase within 14 days and continued to increase every month. I went from 550 to 758 in 90 days. But every case is different.
Q2: What score do I need to get a house?
A2: Most mortgage companies require a minimum score of 620 for a home loan.
Q3: My score is 440, will this work for me?
A3: Yes! Your scores will increase by completing the simple steps which you can do within 2 hours!
Q4: How is this course better than hiring a credit repair agency?
A4: These credit repair secrets will save you $10,000 in agency fees. Next, the knowledge you'll gain is the power you'll appreciate because no one will be able to take advantage of you.
CONTACT SUPPORT
If you have any questions not listed here please send a message:
Subj: Personal Credit Secrets
Hi, I'm Anne Smith
I'm a mother-turned activist who simplifies the complex world of credit laws. My mission is to share knowledge and freedom through peaceful, non-violent methodologies to empower people. I want to accelerate your path to freedom and prosperity, one course at a time.